Description
Parker Filter Regulator | Distributor Filter Parker
Distributor Resmi
Parker Filter Regulator
Parker Filter Regulator Produk dari Parker menawarkan berbagai macam Regulator berbasis udara, tekanan aliran tinggi dan regulator fase tunggal untuk instrumentasi, filtrasi, pendinginan dan aplikasi pneumatik.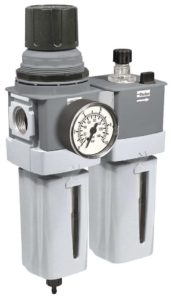 Regulator untuk instrumentasi yang digunakan dalam proses industri, listrik, minyak, gas dan semikonduktor. Digunakan untuk mengontrol aliran cairan dan gas dengan kecepatan dan presisi.
Regulator udara memberikan respon cepat dan regulasi tekanan akurat untuk aplikasi industri udara, tersedia sebagai miniatur, ekonomis, kompak, standar, hi-flow dan regulator pilot-operated untuk memenuhi berbagai kebutuhan.
Sedangkan Regulator tekanan termasuk katup yang mengontrol inlet, outlet atau tekanan variatif. Setiap regulator tersedia dengan bermacam-macam variasi yang memungkinkan satu regulator untuk melakukan beberapa fungsi. Semua regulator yang dibangun dengan standar kualitas tertinggi, diakui di seluruh dunia untuk kinerja mereka, daya tahan dan kehandalan tinggi.
Parker Filter Regulator offers a wide range of air-based Regulators, high flow pressure and single phase regulators for instrumentation, filtration, cooling and pneumatic applications.
Parker Filter RegulatorRegulator for instrumentation used in industrial processes, electricity, oil, gas and semiconductors. Used to control the flow of liquids and gases with speed and precision.
The air regulator provides fast response and accurate pressure regulation for air industry applications, available as miniature, economical, compact, standard, hi-flow and pilot-operated regulator to meet various needs.
While the pressure regulator includes valves that control the inlet, outlet or pressure varied. Each regulator is available with a variety of variations that allow one regulator to perform several functions. All regulators are built to the highest quality standards, recognized worldwide for their performance, durability and high reliability.
Pneumatic Cylinder Parker | Pneumatic Parker

Pneumatic Cylinder Parker dibuat dari material berkualitas tinggi, anti karat, dan tersedia dalam beragam pilihan ukuran dan diameter. Cylinder Pneumatic dari Parker menawarkan performa dan kehandalan yang luar biasa.
Memiliki variasi jenis Cylinder, standar, compact air cylinders, aluminium cylinders, guide cylinders, ISO pneumatic cylinders, low profile pneumatic cylinders, tie rod pneumatic cylinders dan stainless steel air cylinders.